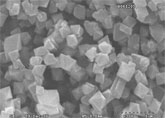 Magnetic recording powder is mainly used for magnetic cards (eg: credit card, airline tickets) and magnetic disks. Compared with the regular magnetic ferrite powder, it needs higher intrinsic coercive force, better anti-oxidation properties as well as better temperature adaptability characteristic.
Unimagnet has been in magnetic recording field of barium ferrite magnetic powder for four years. Hexagonal Barium Ferrite Powder is one of our main products. Stable particle shape, narrow particle distribution, high filling ratio, and good oxidation resistance guarantee that the magnetic powder can satisfy our customers with different requirements.
Typical products of barium ferrite magnetic powder for magnetic recording
Grade

Magnetic characteristics

Granularity
(μm)

Forming method

Br
(mT)

bHc
(KA/m)

iHc
(KA/m)

(BH)max
(MGOe)

UMBS-R(Ba)

85±2

96±5

223±5

0.42-0.48

0.65-0.85

Magnetic record

UMBS-RS(Ba)

125±5

98±6

218±5

0.40-0.50

0.65-1.00
Conversion Table

Remark
1. Ba--Barium ferrite powder Sr--Strontium ferrite powder
2. Custom-build specs is welcomed.