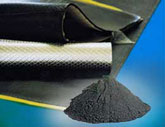 Magnetic damping material is made from asphaltum, barium ferrite magnetic powder and other additives, and the manufacture process includes mixing, calendering, embossing and cutting, etc. Magnetic damping material can stick on the surface of iron, steel and other coating. In addition, it has the characteristics of non-toxicity, odorless and non-flammability etc. Barium ferrite magnetic powder is used for auto vibration & noise damping material which needs special granularity, high magnetic performance and lower price.
Unimagnet adopts improved technologies through changing pre-sintered temperature, balancing raw material, efficient utilizing of ball mill and pelletizer which in order to get competed barium ferrite magnetic powders. Barium ferrite magnetic powders of this grade has competitive price. Furthermore, the improved techniques has expanded new application field of barium ferrite magnetic powder, which is not only applied in Auto vibration & noise damping material but also in train and ship vibration & noise damping material.
Typical products of barium ferrite magnetic powder for damping material
Grade

Magnetic characteristics

Granularity
(μm)

Forming method

Br
(mT)

bHc
(KA/m)

iHc
(KA/m)

(BH)max
(KJ/m3)

UMVS-1(Ba)

150±5

96±8

176±8

4.0±0.4

1.0-1.8

Calendering

UMVS-1B(Ba)

160±5

108±4

210±8

4.6±0.4

2.0-3.0

UMVS-2(Ba)

190±5

120±5

162±8

6.0±0.4

1.2-1.5

UMVS-2B(Ba)

220±5

110±5

160±8

6.4±0.4

1.2-1.8

UMVS-3(Sr)

245±10

135±5

223±5

11.2±0.4

1.3-1.6
Conversion Table

Remark
1. Ba--Barium ferrite powder Sr--Strontium ferrite powder
2. Custom-build specs is welcomed.