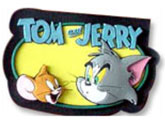 Based on dominant position of magnetic raw material , Unimagnet has expanded products field in new filed of household and industry applications, where Unimagnet has provided fashionable, novel, delicate and low cost refrigerator magnets products.
According to an authoritative statistics, usually people open the refrigerator door about 40 times each day per family. The use-life of refrigerator magnets products can be exceeded 5 years. Therefore, the promotional magnetic products is so effective and lasting.
The cost of advertising refrigerator magnet is reasonable may becomes the essential reason for why it is so popular nowadays. Additionally, the products can provide a good way to show your firm's name posted in thousands of families.
Unimagnet Industry's refrigerator magnet is an interesting subject for certain collectors due to novel design which can give a superior image to these refrigerator magnets.
Feature characters:
1.Surface can stick PVC, chrome paper or synthetic papers etc.
2.Easily molded, customized size and shape are welcomed.
3.Not contain noxious material; ROHS warranty and recyclable.
4.Wide temperature range: efficient from -35 Celsius degree to 50 Celsius degree.
5.Strong flexibility: bending and folding not affect magnetic force.
Feature Products:
Business refrigerator magnets 3D refrigerator magnets Advertising refrigerator magnets
Refrigerator magnet calendar Refrigerator magnet frames Refrigerator word magnets
Animal refrigerator magnets Cat Refrigerator magnets Fridge magnets flash
Food refrigerator magnets Refrigerator magnet games Stainless steel refrigerator magnets