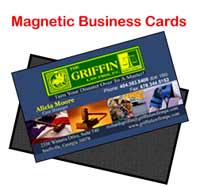 Business refrigerator magnets
Why do you still use paper business cards, when you can use business card magnets that will last longer? They are all the same ---- same size and same information as a regular business card. They are about 20 mil inch thick (a little bit thinner than a credit card), so

they don't get crumpled easily. Do you want your business card to be thrown away or kept for many years ? or Do you want your business card always be seen on the refrigerator door of your potential customers?
Magnetic business card is made by printing full information in full color on copper paper / PVC, then bonding it with flexible magnet on the back.it will never be lost in a pile of papers. Give your customers and potential customers an attractive new style business card is truly a great way to improve your brand-name recognition, and drive more business.
Features characters:
1) Design: with different colors, sizes, images and packages, OEM orders are welcomed and especially suitable for promotion.
2) Quality: adopt advanced imported non-toxic and environment protection Magnet material
3) Price:reasonable.

4) Not contain hazardous substance, ROHS warranty.