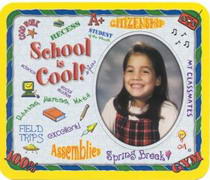 Refrigerator magnet frames
Magnets are attractive way to decorate your kitchen and be useful at the same time. They make great gift tags and then can be used as a magnet to hold notes and reminders.
Refrigerator magnet frames can easily create your own photo collage on your fridge or file cabinet.They are made from substantial magnetic materials, and these magnets won't fall off when you close the fridge door. You can simply hollow out displayed photo and place your own photo behind oval opening.
These refrigerator magnet frames make excellent stocking stuffers for New Baby, Valentine's Day, Father's Day, Mother's Day, Grandparents Day, Christmas, Birthdays for Mom & Dad, Grandparents, Family Members, Friends, Children, Grandchildren, Grandma or Grandpa!These frames are timeless gifts which are sure to be cherished forever!
Main features of fridge magnet frames:
* Display photos horizontally or vertically
* Strong magnet holds it firmly onto any metal surface
* Clear plastic cover protects surface and can be wiped cleanly.
* Also useful for displaying recipes, notes, receipts, etc