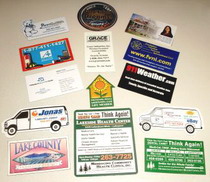 Refrigerator advertising magnets
Refrigerator advertising magnets are ideal gifts and very collectable.They are wonderful additions to any refrigerator or metal surface.
Magnets instantly transform your paper business cards into marketing tools that will present your name in front of clients and prospects.Handing these advertising magnets out to customers or sending them out in a mailing is an inexpensive way to advertise..
Each fridge magnet is made of metal and the images are reproduced through a high-quality printing process.They can kept for 7 to 10 years, unlike mufti color digital printed magnets which last 1- 3 years depending on climate. Printed magnets look great when you get them, but fade and scratch over a short amount of time. Our special designed magnets are made with durable high performance vinyl graphics which do not fade or need to be replaced within a year.
Unimagnet wholesale the refrigerator advertising magnet only for USD 0.16 each piece( regular size: 2" x 3 1/4"). Custom design is welcomed.